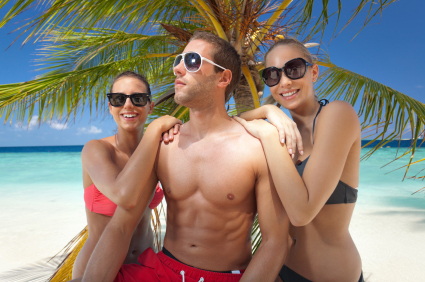 I've been blogging a lot about exercise and men's health and fitness in general for a while now. What I hope to accomplish with this blog is that I'm providing valuable information for you that will increase your level of fitness and overall health.
In the post, I'll be discussing some common mistakes people (especially beginners) make when it comes to exercise. By highlighting these common mistakes, my hope is that you will avoid making them and spread the word to other people to avoid making them!
Mistake Number ONE: Only Working Out In The Gym…
I've mentioned this before, but I think the gym is not the only place where you can get fit. In fact, if you only go to the gym to get your exercise, I think you're doing yourself a HUGE disservice. Quite frankly, I think there are far too many distractions at the gym. You've got all the people, the TVs, the music, the smoothie bar (maybe) and whatever else you can think of that will distract you from your main goal—to exercise! That's why I think taking a break from the gym and working out outside is an awesome and necessary alternative to going to the gym. Not only that, but the gym gets so routine and boring after a while, so working out outside is a nice way to break up your routine and keep things interesting.
Mistake Number TWO: Working Out Too Hard …
I get it. There's a huge temptation to work out HARD when you go to the gym or when you start a new exercise routine. This is especially true with the rise in popularity of fitness fads like the November Project or Cross-Fit. But do you actually know anyone who's joined any of these intense workout groups? Well, let me tell you, I know a few of people who've tried it and sooner or later they suffer from some injuries that can be quite serious in some cases. My point is this: Know your body and don't push yourself so hard that you're exposing yourself to injury.
Mistake Number THREE: Fitness Imbalance…
Ok, so I wouldn't fault you if you were wondering what the heck I mean by "narrow focus" and "fitness imbalance." What I mean by this is that a lot of people tend to overly focus on one or two areas like chest, arms or shoulders (for guys). Here's the problem… you're bound to expose yourself to serious injury. Not only that, but you're seriously limiting your ability to gain muscle and overall fitness. For example, if you work out your chest too much, it can completely change your posture. What happens is, it tightens your pectoral muscles and with weak back muscles, it pulls your shoulders forward. The result is that after a while, you develop what looks like a hunch. Not good! The point here is that always make sure you have a balanced workout routine.
Mistake Number FOUR: Wasting Time…
Here's the deal. Sometimes… especially if you have a workout partner, it can be super easy to chitchat. That's great and all, but the problem is that it can tend to distract you from the task at hand—in other words, your workout! So what that means is instead of working out and engaging in a killer workout, you're standing around talking with your buddies. Talking with your buddies is great, but not so much when your goal is to be working out. What's my point with all of this? My point is this—if you're setting aside time to work out, make sure you keep track of your time and don't waste it. Otherwise, you're simply wasting your time and obviously not getting a good workout.
Mistake Number FIVE: Getting To Comfortable With Your Routine…
What I mean by this is that when you settle into a workout routine, your body and its muscles get used to that routine. As a result, you're really not getting the most out of your routine. If your body gets too used to the routine, you're just not getting the explosive muscle growth and fat loss you could be getting if you mix up your routine from time to time. By doing that, you're body is constantly adjusting to the difference exercises and stressors you put it under. That may sound bad, but it's actually a good thing for your body if your goal is to gain muscle and lose fat. Some people call this "muscle confusion" and believe it to be the key to getting effective workouts.
So there you have it, my five mistakes to avoid when you're trying to gain muscle and lose fat. I hope you find these useful and that they guide you to developing the best workout routine possible!